Brandi Chastain became a national hero when she scored the game-winning penalty kick to give the United States the biggest trophy in soccer in 1999. But, joyfully ripping off her jersey in celebration like most other male athletes do...that turned her into a legend. Nike sat down with Brandi and asked her, whatever happened to The Bra?










This video was part of a Women's World Cup editorial pilot and my role involved determining how to bring this unique story to life. When I came into this project I was told we had access to a recent, and incredible, audio recorded interview with Brandi Chastain. In the interview, Brandi retells her story of getting to the 1999 Women's World Cup and paints an emotional picture of the infamous moment of when she rips off her shirt in glory. I worked with editor Leslie Robarge to determine how we would deliver this story. Knowing the script was short and the content needed to be vertical— this was primarily for the @NikeWomens IGTV—I thought it could be cool to try something new and unexpected: animation.

Because Brandi Chastain's story and the surrounding imagery is so iconic, I found it important to add excitement and newness to the visual approach. The afterlife of the bra was a new addition to the story, one that I thought would benefit being taken to a more playful, illustrative place. I tapped animator Caitlin McCarthy to bring the story to life with her youthful, lighthearted energy. Internally, I worked with Leslie Robarge to nail the script edit. I also managed the creative partnership with Caitlin McCarthy/Strange Beast: writing and delivering the initial brief, overseeing character development, leading feedback, signing off on animatics, and seeing through to completion.




︎︎︎ watch full video︎︎︎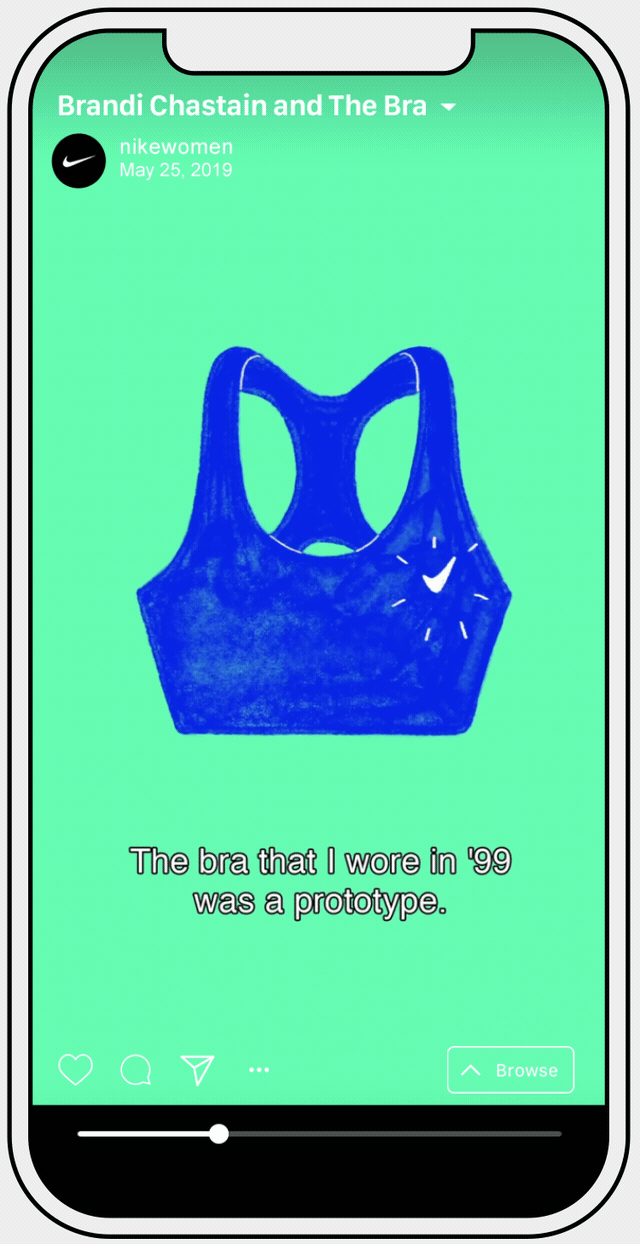 This video was featured on the Nike Womens Instagram, Nike App, and Nike.com and continues to be one of the top viewed IGTV posts on @NikeWomen.